More on manuscript collaboration or dissertation editing
WD2002: Comparing and Merging Microsoft Word Documents. If you are planning to send out your dissertation (or manuscript) to family, friends, or colleagues for editing, you will need to use the Compare and Merge functions in MS Word (that is, if you are using it to write your manuscript). It'll point out the changes they made to the original document and you can decide whether or not to implement it. There's also options to Track changes in Word.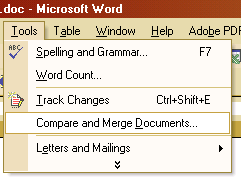 If you want to go the free route, there's always OpenOffice. O'Reilly has a free chapter (pdf file) that will show you how to track changes in collaborative writing efforts in OpenOffice.
I'm writing everything in plain text (LaTeX document), but am converting it to RTF format that both MS Word and OpenOffice can handle with ease. The RTF files will be sent to the less LaTeX-savvy users who will help me in the writing process. I plan to get their feedback digitally and will use the compare and merge functions to see where the changes were made. Let's hope things go smoothly.
Posted by johnvu at July 28, 2005 06:41 PM